Battlefield 4′s beta is almost over and we'll soon have 2 weeks (3 weeks for non USA folk) to wait for the release of the retail version and all its glory. EA and other manufactures hope to make Battlefield a pop culture brand by releasing multiple branded accessories. iPhone cases, headsets, mouse mats, books, T-shirts, posters and more are already available for those that can't get enough BF4.
"This will be our biggest and best planned campaign to date," EA's senior brand licensing manager Stephen Wanigesekera stated. "This range will help the specialists diversify their offerings, whilst more mass market retailers will be interested in items that can enlarge their established categories, such as peripherals, books and apparel. There is a great opportunity to position the merchandise alongside the software itself."
Maingear's Battlefield 4 branded Shift (pictured at left) and F131 (right) gaming PCs. Both special editions will ship with Battlefield 4-themed case artwork, desktop wallpaper and codes to download the game. Maingear is arming the two desktops with the recently launched AMD Radeon R9 290X video card. The F131 runs $2,199 with a single AMD R9 290X video card, while the Shift carries two cards and a costs $3,789.
Get yours here
---
Astro's A50 Audio System comes in two flavors, wired & BF4 branded (pictured left), and wireless, unbranded with a BF4 dogtag (pictured right). Both headphones feature Dolby 7.1 sound powered by KleerNet's strongest 5.8Ghz. The Wireless options sports a Li-Ion battery with a battery life of 8-10 hours. Both A50 options will cost you $299.99 with the lower end A40 costing $259.99
Get yours here
---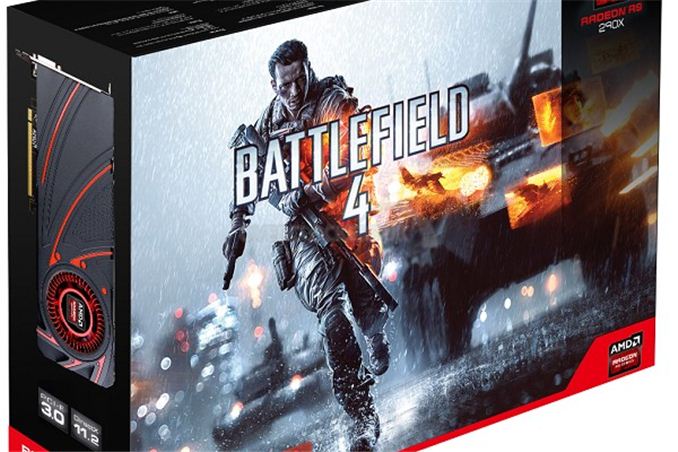 AMD's Radeon R9 290X will be equipped with Hawaii XT processor will have 2,816 stream processors, up to 1GHz engine clock, 5.6 TFLOPS compute performance, 4 GB GDDR5 / 512-bit memory config, 5.0 Gbps memory speed, 1 x 6-pin and 1 x 8-pin power connectors, PCI-E 3.0, AMD TrueAudio Technology, and DirectX 11.2, OpenGL 4.3 and Mantle support. The R9 290 boasts 2,560 stream processors, up to 947 MHz engine clock, 4.9 TFLOPS compute performance, 4 GB GDDR5 / 512-bit memory configuration, 1 x 6-pin and 1 x 8-pin power connectors, PCI-E 3.0, AMD's TrueAudio Technology, and DirectX 11.2, OpenGL 4.3, and Mantle support. Wow.
---
Razer, known as makers of high-end PC and console peripherals and accessories, will be releasing multiple offerings for Battlefield 4 enthusiasts. Their new gear ranges from the Razer BlackWidow gaming keyboard, Taipan gaming mouse, BlackShark gaming headset, Destructor 2 mouse pad, a Battlefield 4 branded messenger bag, and an iPhone case as well.
Get your keyboard here
Get your mouse here
Get your headphones here
Get your mouse pad here
Get your messenger bag here
Get your iPhone 5 case here

---
With a $50 price tag, these PDP made Xbox 360 and Playstation 3 controllers have zinc alloy triggers, new "SmartTrack" analog sticks, programmable buttons, illuminated Battlefield 4 logo, and a detachable breakaway cable.
Get yours here
---
Battlefield 4′s paperback novel,
Countdown to War
, written by Peter Grimsdale, is said to follow and explain in greater detail what gamers will experience in the game's singleplayer campaign.
It's dark. It's twenty below freezing. And CIA operative Lazlo Kovic is on the North Korea border leading a joint US-Chinese mission that is going straight to hell. The US team are massacred and the Chinese guides flee. Kovic is the only survivor. On his return to base in Shanghai, his superiors in the CIA are suspicious of his miraculous return. But Kovic is looking for payback. He lost a lot of friends on that mission. So he puts together a crack team from the Chinese underworld – a hacker, an expert thief and a former-Olympic sniper – and begins to unravel a conspiracy that reaches up to the highest levels of government, both Chinese and American. Here he discovers a deadly plot, one that will plunge the world into war …
Get yours here
---
This $15 guide by Prima covers all existing platforms including the new Xbox One and Playstation 4.  Learn the best tactics to score points from respected professional gamers- StrongSide, Flamesword, Walshy, and Elumnite. The pros break down every control point, zone, key location for all modes and maps with best practices and strategies for weapon types, attachments, and vehicles.
Get yours here
---
Many online retailers are throwing in their own swag in exchange for placing your order with them. Noted here is from the Czech retailer Xzone which listed a Collector's Edition of 
Battlefield 4
. This version of the game includes several swag items such as a black knit winter hat with embroidered logo, hardened case, steelbook case for the game, coffee mug, a military bracelet (to resemble parachute cord), three post cards, three gold battlepacks, and a copy of the China Rising DLC
---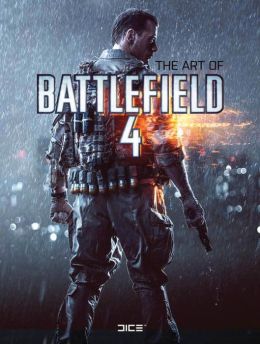 Titan Books'
 The Art of Battlefield 4
is a hardcover book by Martin Robinson slated to be released on November 5th 2013. 
The Art of Battlefield 4
 will give readers an in-depth look at EA's enormously anticipated action-packed new game, featuring exclusive concept and development art, as well as detailed creator insights and commentary throughout.
Get yours here